Vinyl Flooring in Santa Barbara, CA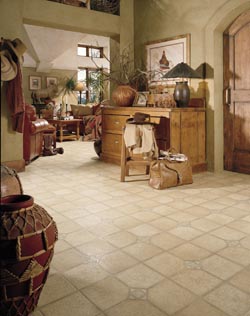 For durability, style, and low-cost maintenance, choose vinyl flooring for your home upgrade project. Available in a wide range of patterns and formats, vinyl sheet flooring is an excellent option when you're searching for elegant design combined with the strength to stand up to foot traffic or moisture. Choose from our vast selection of vinyl tile and vinyl plank flooring for an attractive and affordable option.
Beauty and Resilience with Vinyl Sheet Flooring
Minimize your cost and maximize the value of your home improvement investment with vinyl sheet flooring. Available in numerous textures, colors, and designs, this flooring option offers more than a variety of stylish looks for your flooring. It's also incredibly durable, standing up to years of exposure to common household issues that include moisture, spills, foot traffic, and all the little accidents that are bound to occur in a family home. Because it's installed in just one or two seamless pieces, this product is one of the most water-resistant choices.
Create your own designs from our selections of vinyl tile flooring. Unlike sheet flooring, tile flooring comes in smaller sections, allowing you to choose a layout for your vinyl tile in any design or pattern you want. Available in a variety of printed colors and patterns, these floors enable you to have the stone or tile appearance you want without the high cost and upkeep required. For households with high amounts of traffic, children, or pets, vinyl tile is a perfect way to have elegant flooring that is able to stand up to daily wear and tear.
With high-quality brands like PURstone™ and Downs™, you're finally able to have the natural-looking stone or tile floors you've always wanted without having to pay a fortune for installation or maintenance.
Natural Wood Appearance with Vinyl Plank Flooring
Love the look of hardwood floors, but not the price? Vinyl plank flooring is an affordable alternative with additional benefits. Pay less for your flooring and spend less time on upkeep. For busy family homes with a substantial amount of traffic and mishaps like spills, vinyl planks are a great choice when you want the refined appearance of hardwood but are worried about damage from scratching, dents, and moisture. Try our Galleria LVT™ brand for gorgeous, natural-looking vinyl plank flooring.
Upkeep for vinyl flooring is much less involved and easier than the specialized processes required for some other kinds of floors. It is easy to keep in good condition by regularly sweeping up dust, cleaning spills as quickly as possible, and using protective pads under appliances and furniture to prevent scuffs or scratches.
Professional-Grade Vinyl Flooring Installation
Protect your investment with our trained and experienced installers. The quality of your installation is as important as the quality of the vinyl floors you buy. Let our experienced vinyl flooring installation specialists take care of it for you. Once you've chosen your beautiful new floors, we arrive as soon as possible to provide high-quality installation that looks great for many years to come.
Contact us today to schedule a free measure. Ask about our 12-18 month financing options. We proudly serve customers throughout Santa Barbara, California, and the nearby communities.